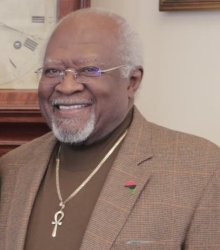 Julius Garvey
- Chief Medical Officer & President of The Scientific Advisory Board
---
Julius Garvey, M.D., F.A.C.S, F.R.C.S.(C), F.I.C.S., F.A.C.Ph., F.A.C.C.W.S. is a Board-Certified surgeon specializing in the diagnosis and treatment of vascular diseases. As the founder and Medical Director of Garvey Vascular Specialists, Dr. Garvey brings a wealth of experience and knowledge into our practice. His skill and proficiency provide our patients with an extensive range of expertise in the areas of arterial, venous diseases.
Dr. Garvey, a highly trained and credentialed surgeon, has held extensive academic appointments. He has worked as an Associate and Assistant Professor of Surgery at Albert Einstein College of Medicine in Bronx NY, Assistant Professor of Surgery, State University of NY at Stony Brook, NY, as well as Instructor in Surgery at both Albert Einstein College of Medicine in Bronx, NY and Columbia University College of Physicians & Surgeons, NY. Additionally, his hospital appointments are expansive. He has been an Attending Cardiothoracic Surgeon at Harlem Hospital Center in NY, NY and Montefiore Hospital in Bronx, NY, Associate Attending Head of Thoracic Surgery at the Montefiore Morrisania Affiliate in Bronx, NY, and Acting Program Director in the Division of Cardiothoracic Surgery at Long Island Jewish Medical Center in New Hyde Park, NY. He was also Chief of Vascular & Thoracic Surgery at Queens Hospital Center and is presently an attending surgeon on staff of the Long Island Jewish Medical Center.
Dr. Garvey is both nationally and internationally recognized for his contributions to medicine and speaks, teaches and presents clinical research at conferences across the country. He is a Member of the International College of Angiology, the Phlebology Society of America, the NY Academy of Sciences, the American Heart Association, the Society of Thoracic Surgeons, the Association for Academic Surgery, the Association for the Advancement of Wound Care and the NY Society of Thoracic Surgery.
Dr. Garvey is a Fellow of the Royal College of Surgeons (Canada), the American College of Surgeons, The American College of Phlebology, the International College of Surgeons, and the American College of Chest Physicians. In addition, he is a Diplomate of the Board of Cardiothoracic & Vascular Surgery, the American Board of Surgery, and the American Academy of Wound Management. Dr. Garvey's exposure and expertise in vascular surgery, cardiovascular surgery, Phlebology, and wound care leads his determination to comprehensively address the concerns of all patients seen at Garvey Vascular Specialists afflicted with vascular disorders.