Cannabis Science CEO Receives Prestigious Industry Leader Award at 2018 Global Health Catalyst Summit at Harvard Medical School and Announces Major Collaboration With Elpasso Farms in South Africa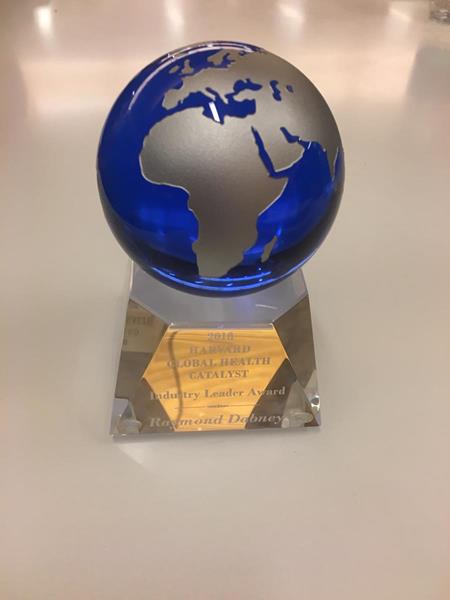 Cannabis Science, Inc. (OTC: CBIS), a U.S. company specializing in the development of cannabinoid-based medicines, announces that the Company has successfully completed participation in the 2018 Global Health Catalyst (GHC) Summit at Harvard Medical School in Boston, MA. As part of the Company's participation this year, Cannabis Science chaired a session on phytomedicines in global health and announced a new partnership with Elpasso Farms, one of the most successful farms in South Africa. 
Additionally, the Company's President, Chief Executive Officer (CEO), and Co-Founder, Mr. Raymond C. Dabney, was presented the prestigious Industry Leader Award by the GHC Summit Organizing Committee. Mr. Dabney was presented this award for "…establishing groundbreaking partnerships with African institutions to close the cancer and pain divide, investigating safe phytomedicine alternatives to opioids, and providing support for the development of phytomedicines to reduce global health disparities." Other awardees recognized during the 2018 GHC Summit included:
Her Excellency Dr. Arikana Chihombori-Quao, The African Union's Ambassador to the United States;
Mr. Bismack Biyombo, a player with the National Basketball Association's (NBA) Orlando Magic and philanthropist from the Democratic Republic of the Congo;
The Honorable Professor Peter Anyang' Nyong'o, Governor of Kisumu County in Kenya and former Minister of Medical Services;
Mr. Krishnan Suthanthiran, President of Team Best and an entrepreneur with interests in medical products manufacturing, healthcare delivery, and real estate;
Dr. Nazik Hammad, Vice President for North America for the African Organization for Research and Training in Cancer (AORTIC) and Assistant Professor at the Department of Medical Oncology at Queen's University in Kingston, Ontario;
Dr. Eduardo Cazap, Professor and founder of the Latin American and Caribbean Society of Medical Oncology (SLACOM);
Professor Nicholas Abinya, Professor of Medicine and Head of the Hematology and Oncology Section, Department of Clinical Medicine and Therapeutics, University of Nairobi and Kenyatta National Hospital;
Professor Dennis and Nancy Palmer, from the Mbingo Baptist Hospital, Cameroon;
Dr. Groesbeck Preer Parham, Professor at the University of North Carolina, Chapel Hill School of Medicine; and
The Government of Rwanda (accepted by Her Excellency Professor Mathilde Mukantabana, Rwanda's Ambassador to the United States.
Mr. Dabney was the keynote speaker for the Phytomedicines in Global Health Session held on Saturday, May 26th. The theme of this session was From Farm to Bedside: Advancing Clinical Translation of Medical Cannabis and Other Phytomedicines for Global Health. Mr. Dabney discussed the development of effective cannabinoids and the creation of the Cannabis Science Global Consortium, a research and development framework and platform to cooperate and collaborate with stakeholders worldwide. The Cannabis Science Global Consortium links universities, foundations, corporations, and individuals to share research, ideas, and other relevant information, as well as to implement a cutting-edge research program to develop medicines and delivery mechanisms from bench-to-bedside. The Global Consortium also enables the Company to more strategically coordinate its initiatives, including those focused on education, job creation, and skills training.
Cannabis Science's Chief Medical Officer (CMO), Dr. Allen Herman, moderated the Phytomedicines Session and presented on the role of cannabinoids in reducing the pain therapeutic divide between developed and developing countries, and the Company's research and development plan.
During the Phytomedicines Session, Mr. Dabney announced the signing of an exclusive partnership agreement between Cannabis Science and Elpasso Farms.  Elpasso Farms is considered one of the most successful farms in South Africa. The 1,000-acre farm is located in Cullinan, a small town approximately 30 kilometers east of Pretoria. Cannabis Science enters into this agreement along with the Company's educational partner, American States University (ASU). 
Under the terms of the agreement, Cannabis Science, ASU, and Elpasso Farms will collaborate to implement an initiative creating an Agriculture Center of Excellence in phytomedicines and commerce, specializing in community, city, and national economic development in South Africa, with plans to expand across the African continent. Specifically, the parties will establish research, development, cultivation, testing, manufacturing, and production facilities on Elpasso's 1,000-acre site in Cullinan, South Africa. Additionally, in support of these activities and as part of the agreement, Cannabis Science, ASU, and Elpasso Farms will establish the Pan-African Agriculture and Commerce University (PAACU). PAACU will specialize in Agriculture, Medicine, Medical Practitioner, Law, Business, and Entrepreneurial programs for the local community, and will offer a variety of certificate courses and conduct formal research programs using a variety of cannabinoids from associated indigenous plants. PAACU will be responsible for seed incubation, growing, and cultivation of a variety indigenous plants including Cannabis and Hemp. 
"Our partnership with Elpasso Farms breaks new ground for Cannabis Science and certainly pushes us to the next level," stated Mr. Dabney, who is also the Chancellor of ASU. "We currently have a sponsored research program with one of the leading academic and research institutions in South Africa. As part of our broader African Initiative, this agreement with Elpasso Farms will effectively establish Cannabis Science's headquarters and operations in South Africa. Not only do we expect to significantly grow our business, we intend to leverage ASU to have a positive impact in South Africa through our contributions to economic development, education, skills training, and job creation."
Cannabis Science's funded research currently focuses on the clinical applications of cannabinoids in cancer treatment and pain management. The Company's research will expand to investigate the effectiveness of cannabinoid treatment in an increasing array of cancers, especially difficult to treat cancers and those with high fatality rates; develop novel targeted delivery methods in the use of cannabinoids, and – with advances in bioinformatics, computer science, and pharmacology – explore the mechanisms of action of cannabinoids in the management of disease. The Company is also investigating the use of cannabinoid-based medicines to treat Post Traumatic Stress Disorder (PTSD) and other neurological disorders, HIV/AIDS, chronic pain, Seizures, Chronic Obstructive Pulmonary Disease (COPD), Arthritis and many more critical ailments.
Cannabis Science's objective is to create a vertically integrated organization, through investing in the organic growth and development of the Company's operational capabilities, as well as through strategic acquisitions. Cannabis Science aims to control the development of its medicines from farm-to-bedside, and firmly establish the Company as a leader and recognized innovator in the market for cannabinoid-based medicines.
About American States University
American States University offers thirty-seven state-approved post-secondary educational programs in the Departments of Agriculture, Arts, Business, Certified Professional, and Technology in a unique hybrid structure of online, in class, and in field education. Its primary purpose is to provide professional training in agricultural medical and industrial hemp research and development for pharmaceutical drugs targeting critical ailments such as Cancer, Epilepsy, Chronic Pain, Parkinson's Disease, Arthritis, PTSD, HIV/AIDs and other industries such as Alternate Biofuels, Construction, Clothing and Automobile Materials, business administration, and other numerous certifications. The University aims to provide affordable quality education to its students so as to achieve their career goals and excel in their chosen professions. A sample curriculum for the Alternative Medicine Hemp 101 Program includes; Regulatory Compliance, Company Creation, Company Structure, Department Management, Team, Management, Planting and Harvest, Formulation Creation, Manufacturing, Wholesale, Distribution, Observational Studies, Retail, Sales, and Marketing.
About Cannabis Science, Inc. 

Cannabis Science, Inc. takes advantage of its unique understanding of metabolic processes to provide novel treatment approaches to a number of illnesses for which current treatments and understanding remain unsatisfactory. Cannabinoids have an extensive history dating back thousands of years, and currently, there are a growing number of peer-reviewed scientific publications that document the underlying biochemical pathways that cannabinoids modulate. The Company works with leading experts in drug development, the characterization of medicines, and clinical research to develop, produce, and commercialize novel therapeutic approaches for the treatment for illnesses caused by infections as well as for age-related illness. Our initial focus is on cancers, HIV/AIDS, and neurological conditions. The Company is proceeding with the research and development of its proprietary drugs as a part of this initial focus: CS-S/BCC-1, CS-TATI-1, and CS-NEURO-1, respectively.
Forward-Looking Statements

This Press Release includes forward-looking statements within the meaning of Section 27A of the Securities Act of 1933 and Section 21E of the Securities Act of 1934. A statement containing words such as "anticipate," "seek," intend," "believe," "estimate," "expect," "project," "plan," or similar phrases may be deemed "forward-looking statements" within the meaning of the Private Securities Litigation Reform Act of 1995. Some or all of the events or results anticipated by these forward-looking statements may not occur. Factors that could cause or contribute to such differences include the future U.S. and global economies, the impact of competition, and the Company's reliance on existing regulations regarding the use and development of cannabis-based drugs. Cannabis Science, Inc., does not undertake any duty nor does it intend to update the results of these forward-looking statements. Safe Harbor Statement. The Private Securities Litigation Reform Act of 1995 provides a 'safe harbor' for forward looking statements. Certain of the statements contained herein, which are not historical facts are forward looking statements with respect to events, the occurrence of which involved risks and uncertainties. These forward-looking statements may be impacted, either positively or negatively, by various factors. Information concerning potential factors that could affect the company is detailed from time to time in the company's reports filed with the Securities and Exchange Commission.